First and foremost, I would like to point out how much this story reminded me of my childhood, except, it was an animated version. When first opening up the hobo lobo hyperlink I imagined something very immature and dry, but it was the total opposite. Looking at the story at first reminded me of the story of the big bad wolf. A story of something that is playful and has a hidden message behind it leaving it up to you to find out what that is by the end of the story. There were many parts where I was excited to continue reading because this playful banter including some bad words, was clever enough to actually have an underlying message behind it. The story talks about a peasant wolf hired to get rid of disturbing rats in the town of Hamelin.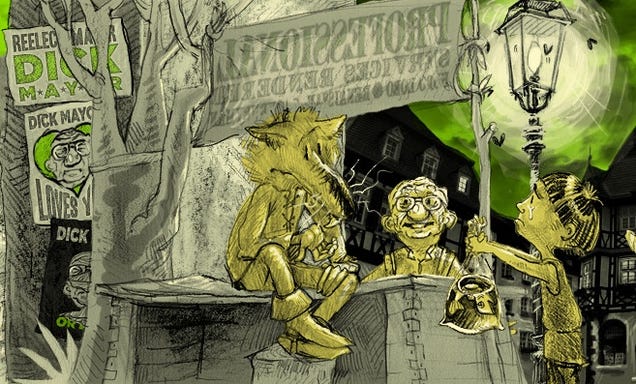 Rats being actual characters in the story, the mayor wants help in getting rid of them and getting them out of town. This wolf decides to help for money and bragging rights in return. What is expected of the mayor after getting rid of the rats was not met. As the wolf waited for his reward for getting rid of the rats, the mayor decides to say that there was no written contract in his payment agreement. The wolf then took the mayor to court but it ended up going to the best interest of the mayor. So by the end of the story, the wolf, ended up more broke than ever. What I got out of the story, and what I feel the underlying message was is how, in the end, you can't expect money, earned by doing a distasteful wealthy- job, to lead you anywhere wholesome yet doing what you like will. The mayor the whole time did not have good intentions for this wolf helping him out.
These are great life lessons to be aware of in this dog eat dog world we live in. At first I thought I was going to read about the story of the three little pigs. I was clearly wrong. Once I started seeing the curse words, I knew that this was clearly going to be a strong and adult like story. The way the stories images dragged from left to right and moved with the words was so cool to see. I feel like the animation as well as the sounds and dark moments in the story had impact on how the author wanted the tone to feel like in that specific part. It was so amazing how you felt the anger and every other emotion while reading certain parts. I would definitely recommend this story to other readers that are interested in e- lit. The many ways this story was a success can mean the same for many others.